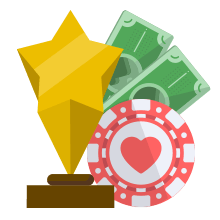 10 Poker Tips for Kiwi Players
Finding the right poker site that suits your needs as a Kiwi player can prove tiresome. As Kiwi players ourselves, we can relate. That's why we have created a list of informative tips that can help you find the right games to play, as well as improve your ability to win.
Whether you're a beginner or have a few miles under your belt, you'll find something on this list to improve your game. At the end of the day, we can all do with a little help from our friends!
Look for a Great Welcome Bonus
Poker is undoubtedly a game of skill. However, there are times where you might feel otherwise. Playing on a site that offers generous bonuses can help cover the times when it seems as if your aces are always getting cracked.
This is especially the case with Welcome Bonuses. Deposit a certain amount – usually only available with your first deposit – and you'll get a matched amount from the poker room.
Find the Fish
The poker legend, Doyle "Texas Dolly" Brunson once said, "I've never met a table I couldn't beat". By that, he wasn't just tooting his own horn as a poker phenom, which of course he is. He meant that he would look for a table to beat and then sit down and proceed to take everyone's chips. Find the fish and you won't have to worry about the sharks.
Practise for Free
You don't have to have a gas guzzler of a bankroll to learn the game. Most poker sites in New Zealand have practice-play or play-money tables. In these games, the only thing you can lose is your temper! However, try not to. It can get frustrating at play money tables because your opponents also know that there's no real money at risk. That said, the beginner sections are a great place to get your feet wet as a poker newbie.
Play Tight to Start
For beginners, it's recommended that they play a tighter game. As the old saying goes, "Poker takes a minute to learn, and a lifetime to master." Therefore, take it slowly in the beginning stages. Learn all aspects to the game before opening up and playing more speculative hands.
Leave the Alcohol for After
Poker and drinking go together about as well as chalk and cheese. Not only are they on opposite sides of the spectrum, putting them together can be a lethal mix that will leave your bankroll in tatters. Like a lot of things in life, try to keep a clear (sober) head when at the poker tables. You'll thank us for it.
Keep on Track
If you want to become good at this game, like any other sport you're going to have to keep track. Using poker tracking software can help with this process as they allow you to go back and monitor your play. When you're in the heat of a hand, it can be difficult to remain objective. However, in the cold light of day the hand re-player tool never lies.
Get to Grips with Poker Strategy
Learning the rules of playing poker isn't enough if you really want to become a skilful player. You'll have to study the strategy too. There are many books, videos and even poker mentors/tutors that can help you better your game.
Stick to Your Bankroll Limits
It's easy to feel tempted into going over your allotted poker bankroll, but resist the urge. Make certain you have strict limits in place and stick to them. If you're a good player on a bad run, things will turn around in time. Don't force the action by upping your bankroll in an attempt to chase money that's already on the run with a big head start.
Befriend the Lowly Freeroll
Don't knock freerolls. Many players have built up huge bankrolls with little or no cash, playing free tournaments. They are also a decent place to get your feet wet as a newbie player. You'll be able to see how the game works in a proper setting, and all for free.
Watch Like a Hawk
Poker is more than just about the cards. Yes, it would be great to get aces every hand, and they almost play themselves. However, there's an old saying in poker, "Play the player, not the cards". In other words, watch how a player plays their hand not what you're holding. You can pick up a lot by observing how much, how quickly and how often a player bets. You can use this information to possibly win the hand.
Keep these 10 tips in mind the next time you play. Ready to give it a go?